Real estate is a hot commodity in New York City, and for a good reason. With buildings dating back to the 18th century, older homes in New York offer a sense of history and grandeur. You may prefer a more ornate style or a stripped-down facade with little decoration. No matter your preference, there's no shortage of beautiful architecture in New York City, especially when looking at Upper East Side homes for sale.
Brownstone & limestone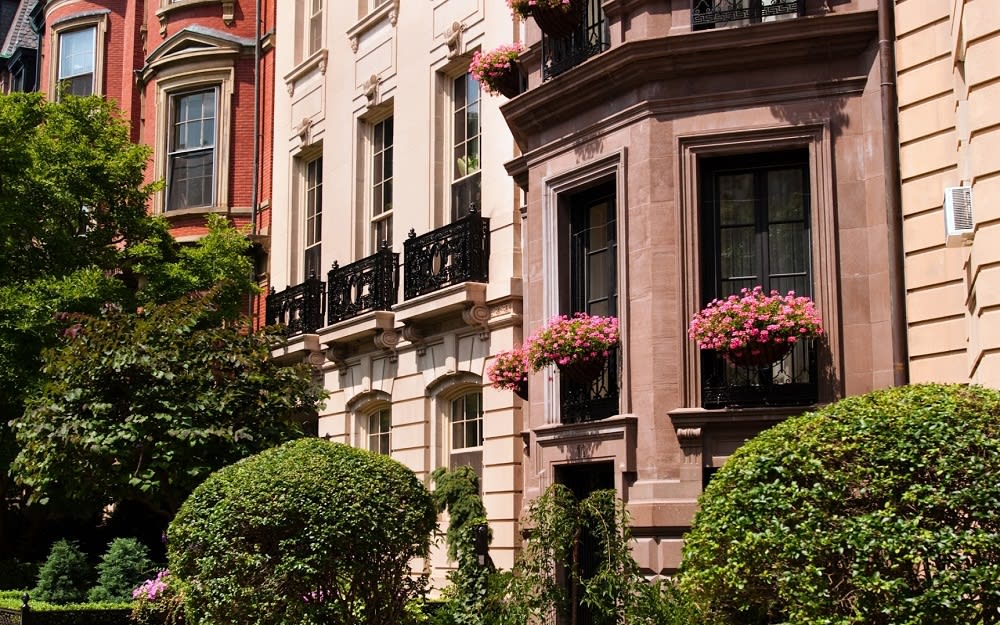 When you picture a classic NYC scene, you likely envision a busy Times Square, a peaceful stroll through Central Park, or a jaunt up the steps of a beautiful brownstone. Brownstones are typically three-story townhouses with elegant bay windows offering a classic, affluent feel.
Constructed of brick in the mid-1800s, the term "brownstone" is a slight misnomer, as only their facade is made of brownstone. The porous, flaky nature of the stone meant that many of the homes had to be renovated with limestone facades to retain their beauty. Despite this, they're beloved by New Yorkers and a true gem if you find one on a list of Upper East Side homes for sale.
Brownstones bring together the mid-19th century values of industrial progress and romantic classicism. They feature
a variety of architectural styles
, from the symmetrical Neo-Grecian brownstones to the more ornate Queen Annes with gabled roofs and rounded windows. Built in long rows, brownstones represented resourcefulness and efficiency while retaining a sense of beauty in their shape and construction. They symbolize wealth and are considered a classic New York home.
Beaux-Arts
The Beaux-Arts architectural style reflects ancient Greek and Roman structures and became popular between the late 1800s and early 1920s. Carnegie Hall, Grand Central, and the New York Public Library were all designed and constructed in this style. Created with Neoclassicism and Greek Revival styles, Upper East Side homes for sale in the Beaux-Arts style are typically fashioned out of stone. They feature symmetrical elements, ornate carvings, and the occasional set of columns or a balcony. These are elegant, grand homes that exude luxury and prestige.

Beaux-Arts townhomes in the Upper East Side have been known to sell for as little as $4 million, with some closing at prices as high as $30 million. If you're interested in investing in a prime piece of New York real estate, Beaux-Arts townhomes are second to none.
Neo-Italian Renaissance
These homes reflect the best of 16th-century architecture that brought together the classical Roman style with Renaissance flair. Picture columns and arches, sweeping vaults, small balconies, and round dormers.

The Neo-Italian style was most popular between 1840 and 1870 and featured in many brownstones throughout New York's Upper East Side. Though symmetrical and somewhat understated in design, these breathtaking homes can be distinguished by tall stoops and deep, porch-like doorways. The final touches that tell you it's a Neo-Italian home are the peaked pediments and numerous acanthus brackets flanking the windows and doors.

Securing a home in the Neo-Italian style will run you a minimum of $1-2 million. Stand-alone properties are often listed for more but may come with extra design features, like stately Roman-inspired columns.
Georgian & Neo-Georgian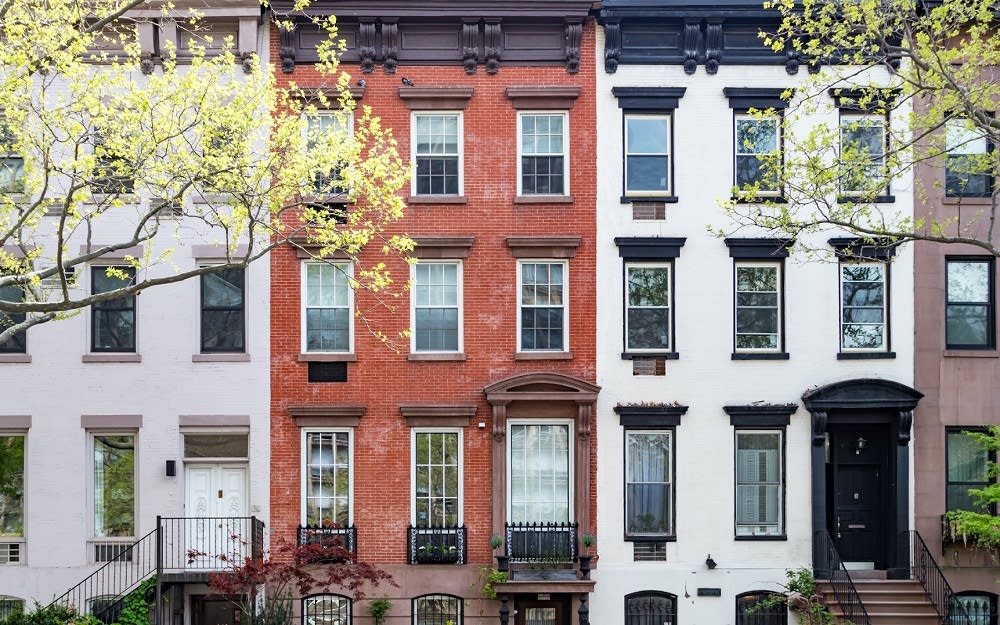 The Georgian style is reminiscent of a property found in New England and features light window trim contrasted by red or brown bricks. Neo-Georgian homes are symmetrical and minimally decorated, with flat facades and conservative, matching window adornments.
A response to the more ornate Beaux-Arts and Queen Anne styles of the late 18th century, Neo-Georgian homes came into fashion in the early 1900s. They take the mathematical precision of Ancient Greek and Roman styles but strip down the more decorative elements. These homes are sleek and understated, with a high emphasis on uniformity.
If you find a Georgian or Neo-Georgian home for sale in New York's Upper East Side, you can expect it to fall between $1.7 million and $3 million. At the higher end, homes near the river can sell for $4 million and $7 million, with one seven-bedroom mansion off Park Avenue listing as high as $26 million.
Federal-style
The Federal-style
harkens back to the late 1700s and early 1800s. They take the stripped-down feel of a Georgian townhouse to the next level with basic shapes, symmetrical designs, and highly minimal decoration. Federal townhomes in New York are most often made from clapboard or brick and are bought at premium prices in the Upper East Side.
Recently, Upper East Side real estate in this style was listed in the $1-2 million range. It's not uncommon, however, to find ones listed higher than that! In 2019, a five-story, eight-bedroom Federal townhouse near Central Park sold for $17 million.
Art Deco
Finally, the Art Deco style gives you an immediate sense of the Roaring Twenties with its stacked arches and glass features. Picture the Chrysler Building or the Paramount, and you'll get a sense of this simple yet elegant style. Going against old patterns of the boxy designs of Georgian and Federal, Art Deco embraces geometric shapes like triangles and diamonds that give its buildings a unique personality.

Many Upper East Side homes for sale in the Art Deco style are larger condos or high-rise apartment buildings. It's not uncommon for individual apartments to sell for over $2 million.
Upper East Side homes for sale
Homes for sale in New York's Upper East Side are a true investment in quality and beauty. If you can find a classic brownstone in the Georgian or Queen Anne style, you've hit the jackpot. To be sure you're able to make an offer on the townhome of your dreams, reach out to Upper East Side real estate agent
Stanton Hoch
for expert service.