If there's any certainty in the New York City real estate market over the next few years, it's that the expected value of Upper West Side condos will continue to rise indefinitely. While the actual median sales price of properties may
currently be in decline
, both social distancing and remote working trends have enabled a certain amount of creativity for Upper West Side condominium owners to add value to their properties.
Market sales in NYC can be notoriously turbulent, but many owners don't always recognize that it's not just location that drives real estate. It's the condition of a home. In a major metro city like Manhattan, that can frequently mean the interior design of a home. Buyers are already aware that the market can be a highly competitive one. That's why Upper West Side luxury condos can come with a price tag starting at
over $2,200 per square foot
.
Exclusivity and location will always be some of the most critical elements in the real estate market. But interior design can frequently give luxury condos on the Upper West Side a key selling advantage—when used optimally. Whether you're looking for a complete makeover of your property or need a boost in spurring buyer interest, these interior design trends can help transform the value of your Manhattan home.
Marble Accent Walls and Tabletops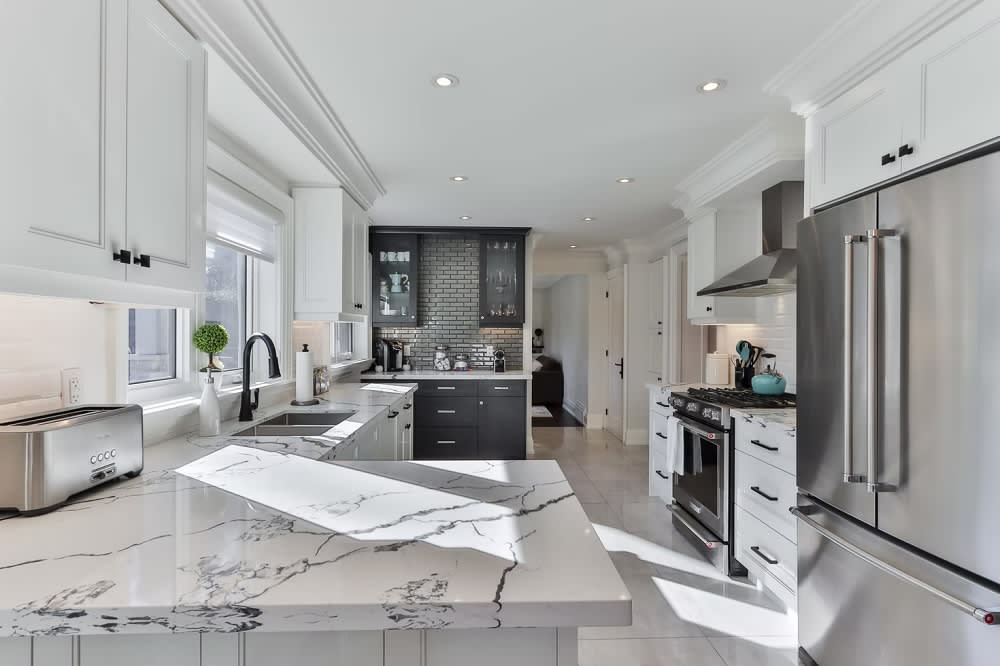 Marble accents have been a mainstay of interior design on the Upper West Side for decades. Despite the proliferation of design trends that seem outdated within a matter of months, marble accent walls still continue to be elegant, classic, and absolutely timeless. It may be a popular style choice, but it's a highly individual one—one that gives a defining character to any home. But marble accents can come in any number of designs, many of which aren't always the most eye-catching in the world. While Carrara marble is one of the more popular choices for both accents and foundational interior designs owing to its light and subtle hues,
Calacatta marble
(from the same region in Italy where Carrara originated) features much more prominent veins and a slightly brighter background to make a bolder and more dynamic statement.
High White Gloss Cabinets
One of the downsides to owning an Upper West Side luxury condo can be the relative density of residential properties. Despite a housing vacancy of
over 7,300 units
in Lincoln Square alone, the population of the Upper West Side is
growing
by leaps and bounds. That's why many condo owners are choosing to go with high white gloss kitchen and bathroom cabinets to achieve a much brighter and inviting feel in contrast with the population boom. The industrial and rustic designs once predominant in Manhattan suffered from one particular flaw: they felt constraining and ultimately, forced. Not only can high gloss cabinets give your kitchen and bathroom a sleeker and more contemporary appearance, but they create the impression of a much more open, inviting, and deceptively larger space—a critical selling point in a neighborhood with
over 214,400 residents
.
Neutral Color Schemes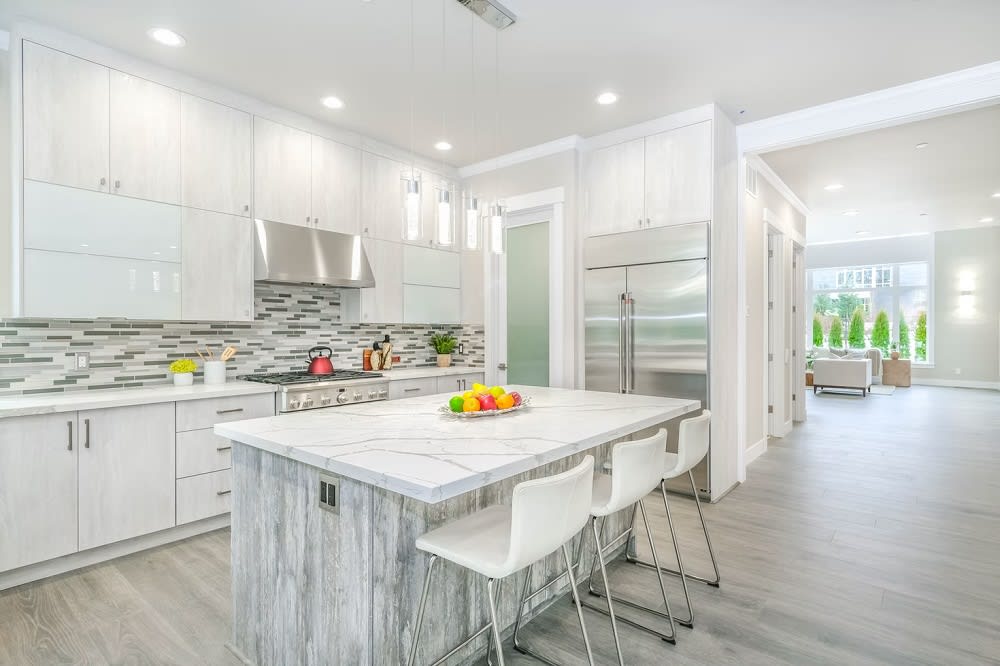 There's a reason why grey is such a predominant color scheme in Upper West Side luxury condo design. It's neither overpowering nor intimidating, but subtle and highly open to personal interpretation. But a neutral color scheme isn't limited to grey alone. Beige, cream, and taupe are palettes that can be surprisingly effective, giving a character and nuance that creates a much deeper impression on visitors than the bolder color schemes that were popular 15 years ago. Neutral colors give a sense of intimacy and acceptance that's a perfect backdrop for conversations. Experimenting with complementary color schemes in your decor can give added depth to a room, allowing an air of complexity that's anything but overpowering.
Minimalism and Open Space
It's one thing to create the impression of open space. It's another to create an actual open space altogether. While highly visible lifestyle gurus such as Marie Kondo remain popular across the globe owing to the timeless adage of "less is more." Upper West Side residents are taking that statement to heart in 2021 by transforming their living spaces into open, Zen-like havens of minimalism and reduced clutter. There's a psychology behind the trend towards minimalism in decor. In a digital age where our attention span is unnecessarily burdened by any number of distractions and outside stimuli, the need to become unplugged and refocus is more pertinent than ever. Minimalist design reduces distractions and stimuli, allowing for an open space where you're the ruler of your domain; a domain where anything can happen.
Organic and Natural Elements
Green living isn't just a trend. It's a commitment to a sustainable way of life. Yet in a landscape where concrete, glass, and steel predominate, the link between the environment and a fast-paced lifestyle frequently becomes obscured. Upper West Side luxury condos don't necessarily have to look sterile and hyper-modern to add value. Organic and natural elements are more versatile and nuanced in 2021, allowing for a much broader, attractive, and diverse variety of green-friendly materials including terracotta, bamboo, and natural wood. With
sustainability rapidly becoming
one of the chief concerns of the majority of U.S. consumers, few homeowners can afford to go without greenifying their environment no matter where they live.
The Upper West Side real estate market is rebounding, and with a population jump of over 13,000 in the past few years, there's never been a greater demand for Upper West Side luxury condos than there will be in 2022. Selling your condo relies on both experience and insight into the latest market trends. Contact one of the
trusted agents at Stanton Hoch
for the guidance and knowledge you need to close your sale successfully on the Upper West Side.