No space can create a sense of luxury and relaxation like a well-designed master bathroom. But do you opt for an entirely modern design or something that reflects the charm of your 19th-century townhome? Do you mix and match or stick to one specific color scheme? If you're looking into Upper West Side real estate or how to renovate Upper West Side luxury townhomes, take a look at these nine design ideas for the master bathroom.
Contrast your colors
Finding the right colors for your bathroom can be tricky, so stick with colors that
evoke feelings of relaxation
. Olive and brown are great options if you want an earthy, natural feel. Sage was a popular color in 2021, especially when paired with a soft yellow, cream, or white. Navy blue with white and brass give a bathroom an upscale vibe that still feels refreshing, while gold and slate create a perfect balance of energy and calm. If you can't land on a particular paint color, try using patterned wallpaper or incorporating colored tiles.
Brighten with white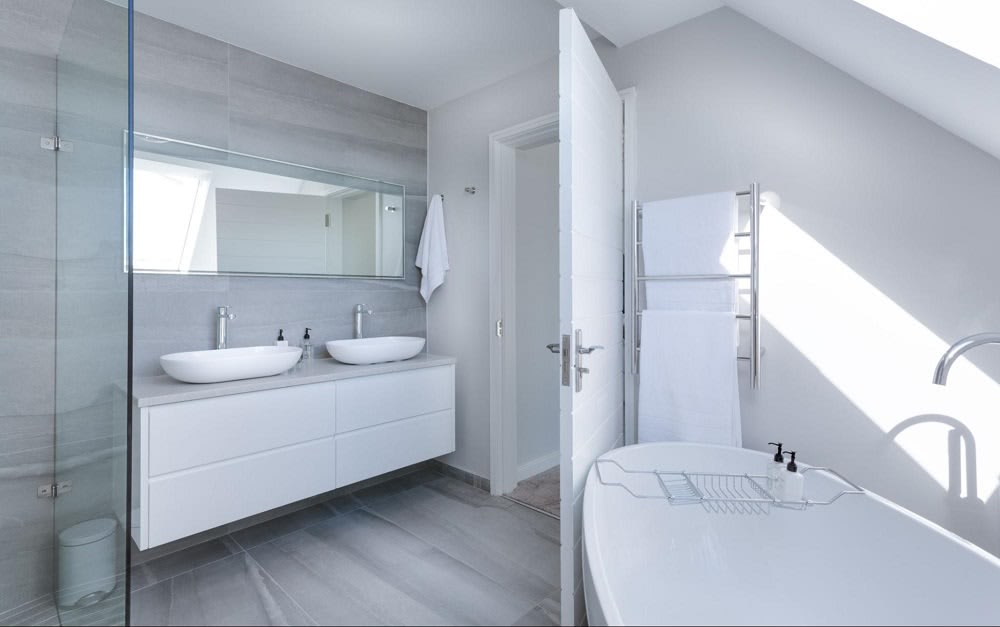 Upper West Side real estate often utilizes the modern look of an all-white master bathroom. White is pristine, clean, and brightens a space immediately. If your luxury townhome lacks natural light in the master bathroom or is on the smaller side, filling it with white marble, tiles, and appliances can create space and light.
Start by replacing dark cabinets. Pull up your dark or discolored tiles and install crisp white choices. For a spotless look, stick with all white towels, linens, and dispensers. Add pops of relaxing colors like blue or purple to break things up.
Go dark and moody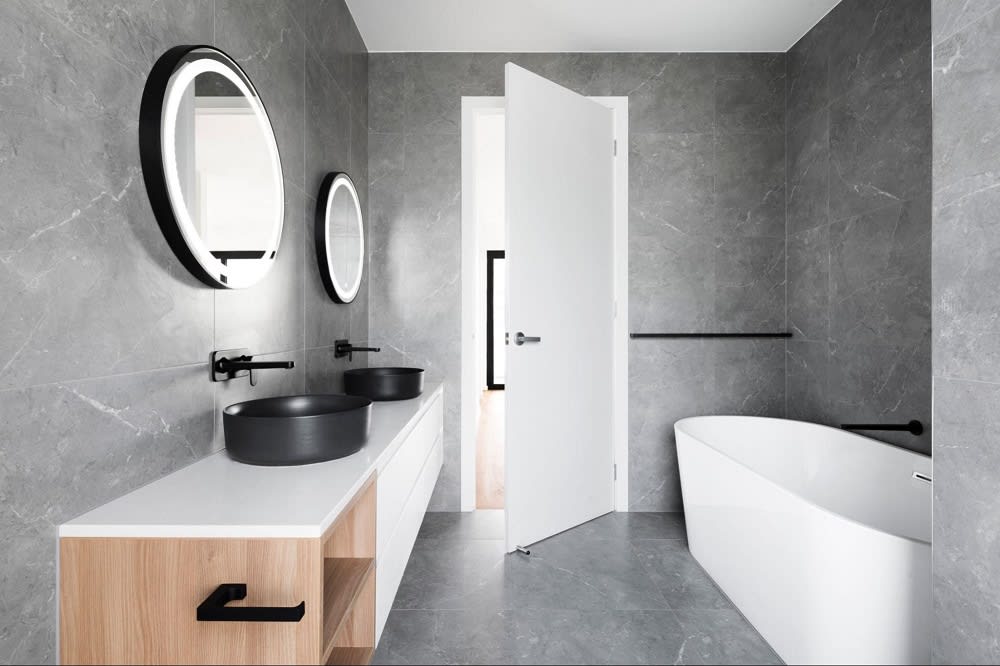 If bright and white isn't your thing, consider a dark, moody master bath. Dark tiles, concrete, and charcoal matte walls will bring in a cozy cave-like feel that will have you feeling relaxed and ready to unwind in no time. Pair the gray aesthetic with iron towel rods and light fixtures to create a modern, industrial feel. Toss in a few Edison or Ferguson bulbs to complete the look.
Create a concrete shower
Concrete showers are growing in popularity for the stoic, modern feel they bring to a bathroom. If you want to contrast the all-white bathroom you've created, ditch the grout and build your shower in concrete. The sleek, textured surface will add just enough of a contrast to intrigue your eye, while the darker color will bring peace and tranquility. Stepping into a concrete shower will feel like standing beneath a waterfall. And the best part? They're durable and effortless to keep clean.
Mix modern with vintage
Pair a clawfoot tub with a modern glass orb chandelier or antique vanity mirrors above your white marble his and hers sinks. Mixing contemporary style
with vintage accents
can bring a luxurious yet eclectic feel to your master bathroom while maintaining functionality.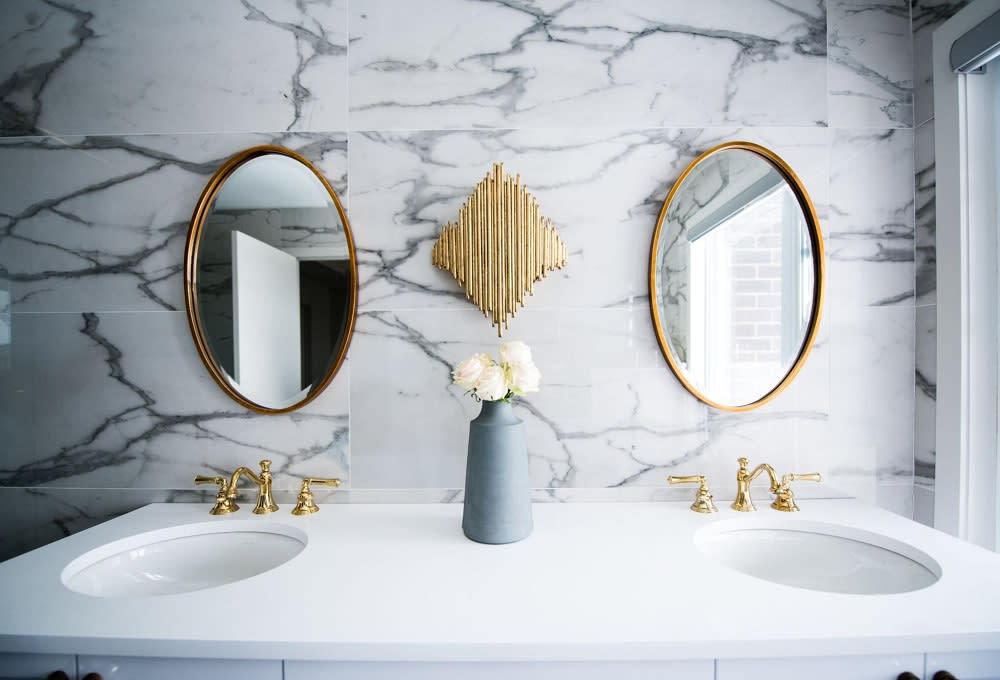 Simple touches like vintage art, lights, or accent rugs can be the perfect touch. Or, if you want to go all the way, match all your accessories to a certain timer period or incorporate retro patterns or materials like terrazzo to add a funky flair.
Some older Upper West Side luxury townhomes may even have original fireplaces or other unique features in the master bath. Match your style off of their late-19th century charm to highlight the best of your new home.
Build a home spa
You're investing in Upper West Side real estate—why not live the lifestyle, too? Create a feeling of pure luxury by building spa features into your master bathroom. Try an indoor jet pool with customizable temperature settings. Design your shower to be large and open with glass walls and a rain shower fixture. Try incorporating stone or bamboo and include designated spaces for essential oil diffusers. Take it further and install a surround sound system to pipe in your most relaxing instrumentals.
Add textures
Modern, luxury master bathrooms often create sleek, straight lines and polished edges. When remodeling Upper West Side luxury townhomes, think of uniform white tiles or solid white baths and sinks. The best way to add a little spice to your master bath is by incorporating a few detailed textures. This can be as simple as tossing a black, faux sheepskin rug in front of the bathtub or lining the shower with porcelain tiles designed to look like wood grain. Even hanging a few pieces of abstract art that bring in different colors and shapes can give your room added texture.
Keep it simple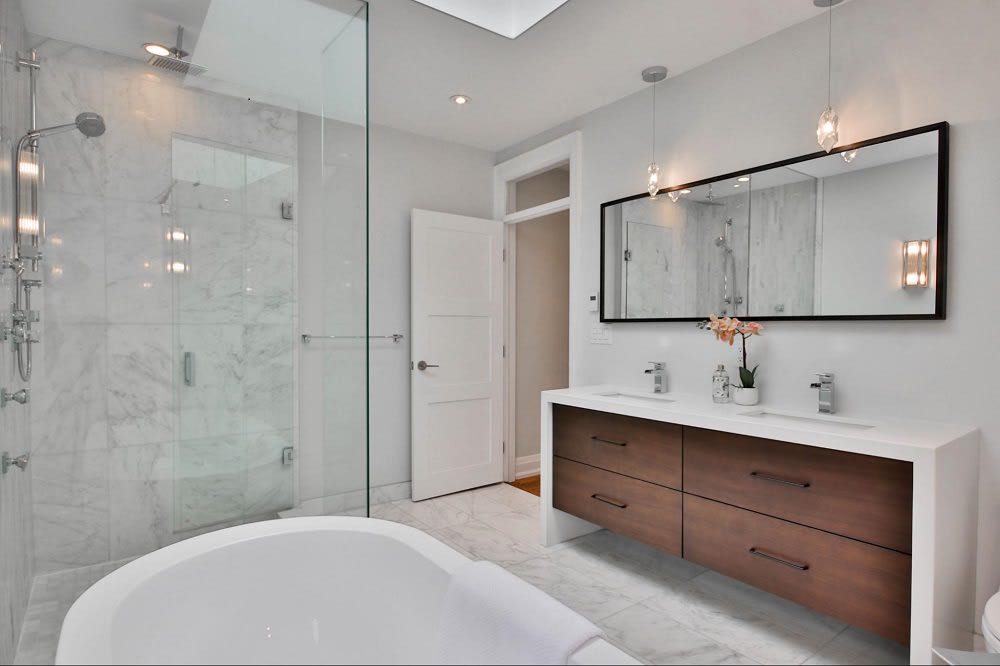 When you're viewing Upper West Side luxury townhomes, you'll notice that many keep the decor and accessories to a minimum. Master bathrooms that keep the design minimal retain an elegance and simplicity that lets the main features steal the show. You want the mood of your bathroom to be one of relaxation and peace.
Research shows
that a cluttered space can drain your mental energy and leave you more distracted and fatigued. Keeping your bathroom minimal and clean will ensure it remains a space of tranquility.
Think about the details
Ever considered adding built-in speakers to your shower? Connect your Alexa or Google Home to select a relaxing playlist without leaving the shower. How about heated floors? Installing an electric floor mat beneath your tiles can take your master bath to the next level. Step out of the shower without those dreaded chills by keeping your floor heated while you wash.

Finally, make sure your knobs and accessories match. These details can get overlooked in master bathrooms, and you don't want anything left over that doesn't go with your new decor. Select knobs that all go together and match the room's design style or mix and match if your bathroom is part-vintage, part-modern, or if it uses a cheerful color scheme.
Designers to consider for your project
Ready to make plans to remodel your master bathroom? Here are some of the best designers in the area to help you make your dream a reality:
These nine design ideas should get your wheels turning on how to design a relaxing master bathroom to unwind in. Upper West Side luxury townhomes have stunning master baths waiting for your creative touch. To start browsing Upper West Side real estate, reach out to experienced local agent
Stanton Hoch
for assistance.